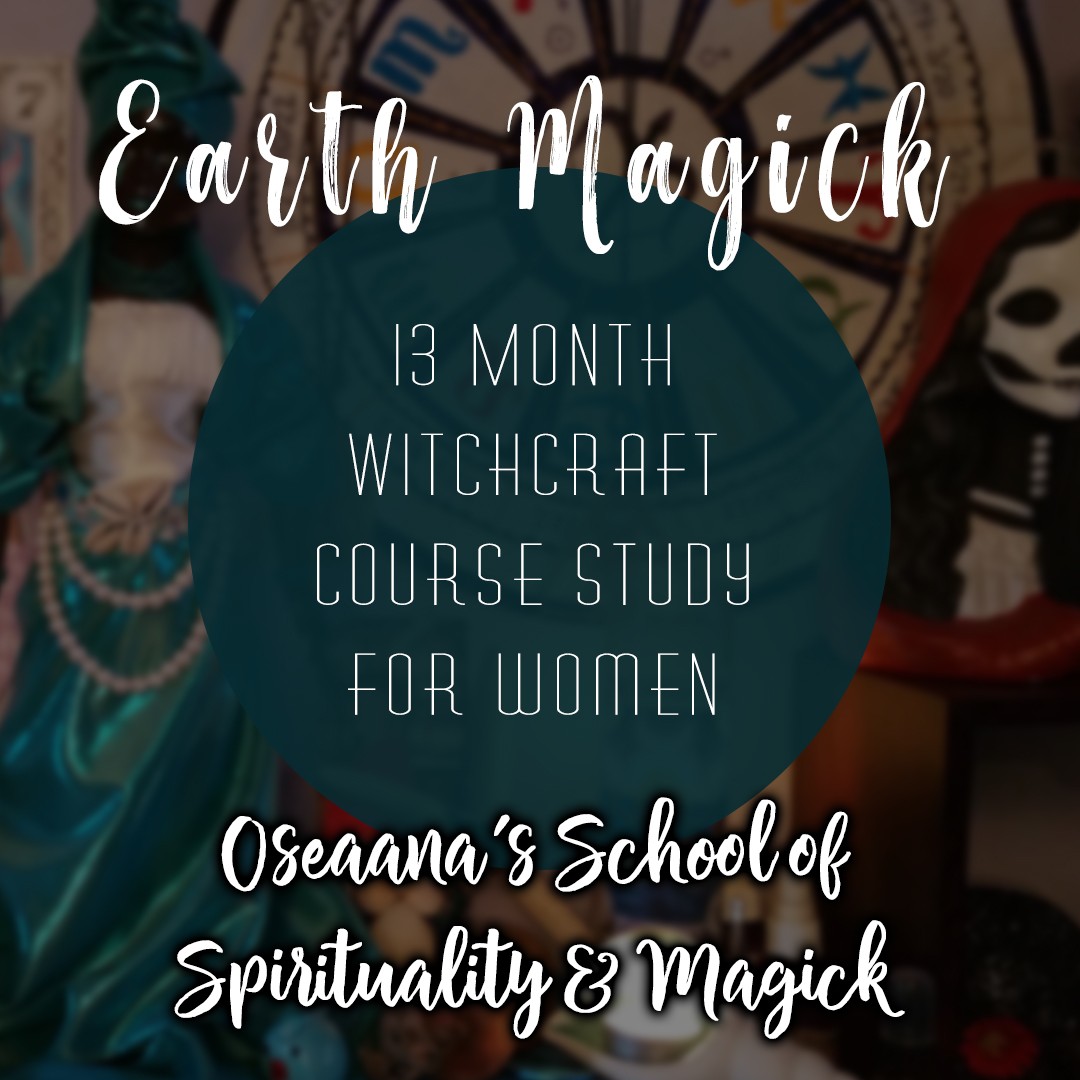 Learn witchcraft and magick using your own personal power!
Rituals, Spells, Ceremonies, and More!
For women only.
Online interactive class environment.
Classwork to enhance and strengthen your magickal power.
Personal dedication rituals.
Course Completion Certificate.
Bonus Content!
30% discount on all other classes offered by Oseaana.
Purpose
The purpose of this course is to give you a grounded personal practice with a solid foundation to grow upon.
If you are new to spellcraft, energy work, and witchcraft, this course is for you.
If you have dabbled in magick but haven't found your groove, this course is for you.
If you have tried spells you have found online and in books but saw your results, this course is for you.
If you simply want to add your own flavor and personal touch to your spellcraft to make it your own, this course is for you.
I will share with you my tips, tricks, and secrets to creating a magickal practice that will help you change your life and manifest those things you want, need, and desire.
Not only will you learn recipes, specific spells, and how magickal energy works; you will also learn how to keep the momentum of that energy going and vibrating throughout your life so that you are never in a place where you feel you are out of control.
You are a powerful Witch!

How the Course Works
This is a 13 month course.
We follow the 3 moon cycles:
new moon - when the first sliver of the moon can be seen in the sky
full moon - when the moon is at it's fullest/brightest
dark moon - when the moon is dark and can not be seen.
The course is designed so that you have classwork each month. Each monthly period we will focus on a specific Earthly Gateway (East/Air, South/Fire, West/Water, North/Earth), daily/weekly practices, energy work and spellwork, building your magickally knowledge, and personal spiritual development.
This is an experiential program, therefore your personal experiences are the
most important aspect of this journey.
Your exploration of this course will be different from other sisters and that is what is so wonderful! This course is setup so that you get out of it what you put in to it.
The course is content rich and you will find a lot of unique information here that you can find nowhere else on the Internet or in books.
Course materials and information will be shared via videos and PDF files which will be available to you at anytime in the online classroom. The course is self-paced. Digest the course work whenever is convenient for you.
What You Will Need
A new journal, notebook, binder, planner, etc.
Pens, markers, crayons, etc.
Glue and/or tape.
A calendar/planner to help you remember dates, due dates, and manage your time.
A calendar or app that shows the moon phases with sidereal/astrological placements. I suggest the Deluxe Moon app by Lifeware Solutions - http://www.lifewaresolutions.com/ or you can use this very simple website - http://deluxemoon.com/
Dedicated space for a small altar to do your workings safely. This can be a permanent setup or a setup that you take down when not in use. It is up to you.
You are responsible for the supplies needed for this course such as candles, incense, oils, herbs, crystals, etc.
Download the full syllabus and supply list here. Remember you don't have to have everything from the supply list at the beginning of the course. You can wait to get what you need for later months.

Rituals & Ceremonies

This course is focused on Witchcraft which is a magickal system and not a spiritual/religious tradition, however we will touch on some spiritual traditions centered around Goddess rituals and ceremonies.

You will do private personal dedication ceremonies throughout the course to align yourself with the powerful energy coming through the Gateways.

Other Perks

As long as you are active in the course you will receive 30% off any other class/course I offer through my website Oseaana.com.

What you need to know about this course:

Please be familiar with my methods of teaching (see my Youtube channel or take a free class).
You must be 21 years or older.
You must be a woman.
You must be comfortable with dark/black energy/magick.
This is not Wicca, Dianic Wicca, Santeria, Ifa, or any other religion.
Enrollment is open for this course on a rolling basis, women will be at different stages of their journey in the course at different times.
Download the full syllabus and supply list here!